THE LAST KEY CONCEPTS!
6.1.I.A – new modes of communication – including the Internet, radio communication, and cellular communication – and transportation reduced the problem of geographic distance.
6.1.I.C – Medical innovations, such as vaccines and antibiotics, increased the ability of humans to survive and live longer lives.
6.1.I.D – Energy technologies, including the use of petroleum and nuclear power, raised productivity and increased the production of material goods.
6.1.II.A – As human activity contributed to deforestation, desertification, and increased consumption of the world's supply of fresh water and clean air, humans competed over these and other resources more intensely than ever before.
6.1.II.B – The release of greenhouse gases and other pollutants into the atmosphere contributed to debates about the nature and causes of climate change.
6.1.III.A – Diseases associated with poverty persisted, while other diseases emerged as new epidemics and threats to human survival. In addition, increased longevity led to a high incidence of certain diseases. (Poverty – Malaria, Cholera) (Epidemics – Ebola, HIV) (Changing lifestyles – Diabetes, Heart disease, Alzheimer's)
6.1.III.B – More effective forms of birth control gave women greater control over fertility and transformed sexual practices.
6.2.IV.E – Expansions in US military spending and technological development, the Soviet invasion of Afghanistan, and economic weakness in communist countries led to the end of the Cold War and the collapse of the Soviet Union.
6.2.V.D – Some movements used violence against civilians to achieve political aims (Al-Qaeda)
6.3.II.B – Changing economic institutions and regional trade agreements reflected the spread of principles and practices associated with free-market economics throughout the world.
6.3.II.C – Movements throughout the world protested the inequality of the environmental and economic consequences of global integration. (Greenpeace, Earth Day)
6.3.III – People conceptualized society and culture in new ways; rights-based discourses challenged old assumptions about race, class, gender, and religion. In much of the world, access to education, as well as participation in new political and professional roles, became more inclusive in terms of these factors.
6.3.IV – Political and social changes of the 20th century led to changes in the arts and literature. In the second half of the century, popular and consumer culture became more global. (Reggae, Bollywood, World Cup, the Olympics)
Complicating the Narrative
Confront Genocide (USHMM): https://www.ushmm.org/confront-genocide
Facing History and Ourselves: https://www.facinghistory.org/
Document in Focus
https://www.globalpolicy.org/component/content/article/162-general/27901-the-way-ahead.html
(Excerpt from Globalization and its Discontents)
Recommendations
https://fiveable.me/live/ap-world/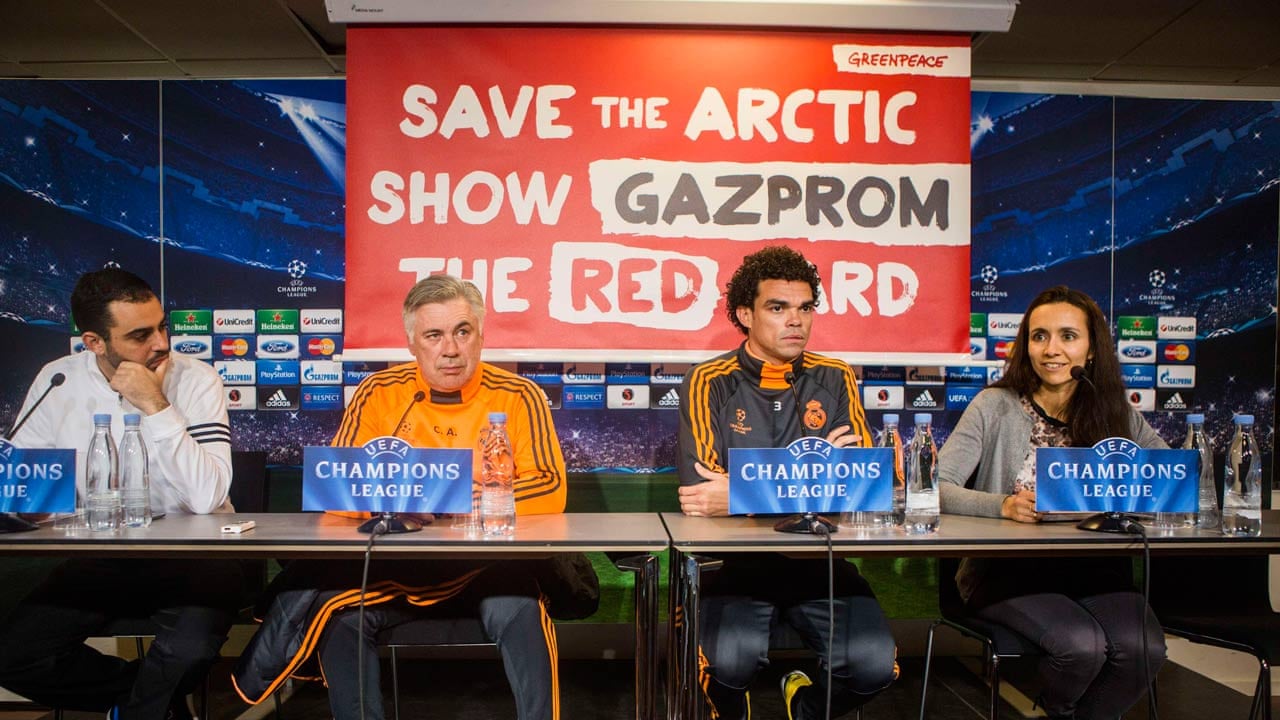 Greenpeace unveils protest poster during a Real Madrid press conference prior to a Champions League match.
Source: https://www.theguardian.com/football/video/2013/dec/10/greenepeace-gazprom-real-madrid-champions-league-video